Board Certified Orthopedic Surgeon*
Subspecialty in Sports Medicine
Fellowship Trained in Spine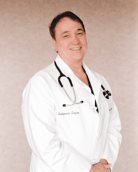 Dr. Williams has been practicing orthopedic surgery in Corpus Christi since 1998. After graduating from Texas Tech he received his medical degree from the University of Texas at San Antonio. At the prestigious Campbell Clinic located at the University of Tennessee, Dr. Williams completed not only an Orthopedic Surgery Residency, but an additional year of Fellowship Training in Spine Surgery. Dr. Williams is dedicated to creating an excellent patient experience in the office or in the surgery suite.
Dr. Williams enjoys spending time with his wife and daughter. He is often in the stands cheering on his daughter at volleyball games and you can find him on the sidelines at Flour Bluff football games. He is also the team physician for the Corpus Christi Force Volleyball Club and the Corpus Christi Sharks Football Club. The Corpus Christi climate provides him with great conditions for golfing and fishing. Dr. Williams is also the area's Fantasy Football League champion.
Board Certified Physician Assistant*
7+ years of Orthopedic Experience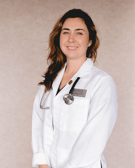 Kim Petrila has been a practicing Physician Assistant since 2008. She completed her Bachelor of Science degree in Human Biology at the University of Texas and then went on to complete her Masters in Physician Assistant Studies at the University of North Texas in Fort Worth. Kim worked in orthopedic surgery for five years in Fort Worth before moving to Corpus Christi in 2014, and joining the Coastal Orthopedics team in December 2017.
---
* WHAT IS THE AMERICAN BOARD OF ORTHOPAEDIC SURGERY?
The American Board of Orthopaedic Surgery is one of twenty-four certifying boards that have met the educational and organizational requirements necessary for membership in the American Board of Orthopaedic Surgery. ABO surgeons with this certification are distinguished orthopedic surgeons who are active in patient care, education and research.
* WHAT DOES IT MEAN TO BE BOARD CERTIFIED BY THE ABOS?
Certification by the American Board of Orthopaedic Surgery means that the orthopedic surgeon has met the specified educational, evaluation, and examination requirements of the Board.
---
The American Academy of Orthopaedic Surgeons
Founded in 1933, the Academy is the preeminent provider of musculoskeletal education to orthopaedic surgeons and others in the world. Its continuing medical education activities include a world-renowned Annual Meeting, multiple continuing medical education (CME) courses held around the country and at the Orthopaedic Learning Center (OLC), and various medical and scientific publications and electronic media materials.
---