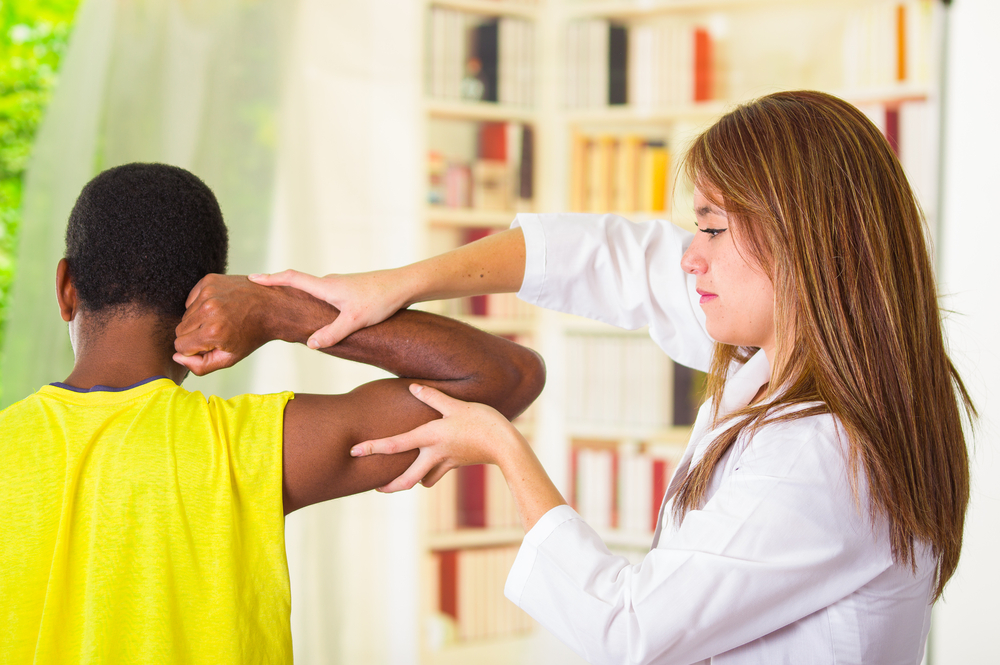 Athletic trainers are necessary for a variety of purposes related to injuries. Their roles involve preventing, examining, diagnosing, treating, and rehabbing various injuries and medical conditions related to participation in sports.
While most people commonly associate an athletic trainer with organized sports like football, hockey, basketball, soccer, etc. they are also known for treating injuries related to other types of activities that are common to coastal Texas, such as:
Fishing

Hunting

Boating

Sailing

Golfing

Tennis

Surfing

Water skiing

Swimming

Gymnastics
Here at Coastal Orthopedics, we have athletic trainers on board to help our patients with injuries incurred from their active lifestyles or daily living.
Our athletic trainers work with an important purpose. Their goals are to return their patients to an active lifestyle as quickly as possible without incurring further injuries. They also work with patients to ensure that they know how to move correctly to avoid repeat injuries.
While it is a highly specialized field, there are abundant employment opportunities for skilled practitioners. Other places you might find athletic trainers employed include:
Performing arts companies (dancers are highly athletic as well).

Sports medicine facilities.

Occupational and industrial health environments.

Hospital emergency departments.
Athletic Trainer Definition
Athletic trainers are healthcare professionals who work with physicians and other medical professionals to provide preventative care, emergency response, and rehabilitative care for patients who receive injuries as athletes or while engaging in athletic activities.
The following organizations recognize athletic training as an allied health care profession:
American Medical Association (AMA)

Health Resources Services Administration (HRSA)

Department of Health and Human Services (HHS)
They are also strongly supported by the American Academy of Pediatrics, American Orthopaedic Society for Sports Medicine, and the American Academy of Family Physicians.
Athletic trainers commonly work for professional sports teams, in high school, college, and university athletic departments; and in physician's offices. You will also find athletic trainers employed in the military and in rehabilitation centers.
Athletic Trainer Education
According to the National Athletic Trainers' Association, athletic trainers must graduate from an accredited baccalaureate or master's program (more than 70 percent of athletic trainers have earned master's degrees). While this is the case, it is possible for athletic trainers seeking entry-level positions in the industry to do so with a bachelor's degree. Advancement, however, generally requires advanced education.
The bachelor's degree must be in athletic training, exercise science, or a related field and ongoing or continuing education is a requirement of the field and for continued certification as medical technology and understanding of how the body works are constantly evolving.
Most states require athletic trainers to earn certification beyond their education. This often occurs in the form of passing a Board of Certification exam in their fields. The Board of Certification (BOC) examination for athletic trainers encompasses testing in the following domains and others:
Injury prevention

Clinical evaluation and diagnosis

Immediate care

Professional development
Athletic trainers should not be confused with personal and/or fitness trainers. These positions require little, if any, formal education while athletic training requires very specific education and training. In fact, athletic trainers must demonstrate proficiency in more than 680 clinical skills as part of their certification exams. Personal and/or fitness trainers are not healthcare professionals of any sort. Their focus is on fitness rather than health.
The BOC examination is currently the only athletic trainer certification program recognized by the National Commission on Certifying Agencies.
Some students, especially those considering becoming physical therapists or doctors, may choose athletic training as a major for their undergraduate studies. This is especially the case of the specific physical therapy or medical practices they're interested in sports medicine or athletic training and physical therapy.
Some students interested in pursuing athletic training degrees face incredible competition. For instance, Penn State advertises an average of 50 applicants for roughly 25-30 program openings each year. Of course, there is more involved in being a great athletic trainer than making good grades, which is why they have very specific qualities they seek in candidates accepted into their program.
With that in mind, the job outlook for athletic trainers is very attractive with a growth rate of 37 percent over the last ten years. The good news in that is that it means more schools are likely to add athletic training programs, opening the field for others to obtain these highly sought degrees and qualify for the Board of Certifications examinations.
Athletic Trainer Job Description
Depending on where athletic trainers are employed, their job descriptions may vary a great deal. Since athletic trainers choose this field for different reasons, it is safe to say that most will have opportunities to explore roles that piqued their interest initially. Some of the jobs they are tasked with include:
Injury response and prevention. Responding immediately to injuries that happen during training, competition, or practice.

Assessing injuries, including concussions, and determining whether athletes can return to the field of play and providing information and education about the condition of the athlete, scope of athlete's injuries, etc. to coaches, parents, and the athletes themselves.

Work with athletes to prevent injuries with the use of braces, tapes, and educating athletes about proper movement and form.

Creating treatment plans to help athletes recover from injuries that may require time and treatment to heal.

Develop therapies that promote healing, minimize pain, and increase mobility.

Recommends strength building and healing exercises.

Provide rehabilitative care for athletes.
In order to perform these tasks, athletic trainers must rely on their extensive education and training background and their abilities to relate to the patients who are often in pain and frightened about the potential long-term implications of their injuries. In other words, it takes more than knowledge and skill to be a great athletic trainer. After all, it all boils down to real people living with real injuries.
Athletic Trainers at Coastal Orthopedics
In the course of our practice, we see many sports and activity related injuries. Whether your injuries are the result of time spent in recreational and/or competitive sports or time spent trying to engage in rigorous spring cleaning, our athletic trainers can help you restore range of motion, maintain mobility, avoid further injuries, and in many cases, strengthen muscles weakened from improper uses of a lifetime.
To complement the benefits of our athletic trainers, we have highly trained and skilled surgical professionals to help repair damage other therapies can't fix. These surgical procedures include:
Cervical and lumbar disc surgery

Complex cervical and lumbar surgery

Elbow surgery

Meniscus and cartilage repair of the knee

Computer-assisted knee and hip surgery
Contact us today online or by calling 361-400-2569 to learn more about our approach to sports specific injuries and rehabilitation as well as our orthopedic surgery options to help repair an injury or damage requiring surgery.
Article written by: Rob Williams, MD