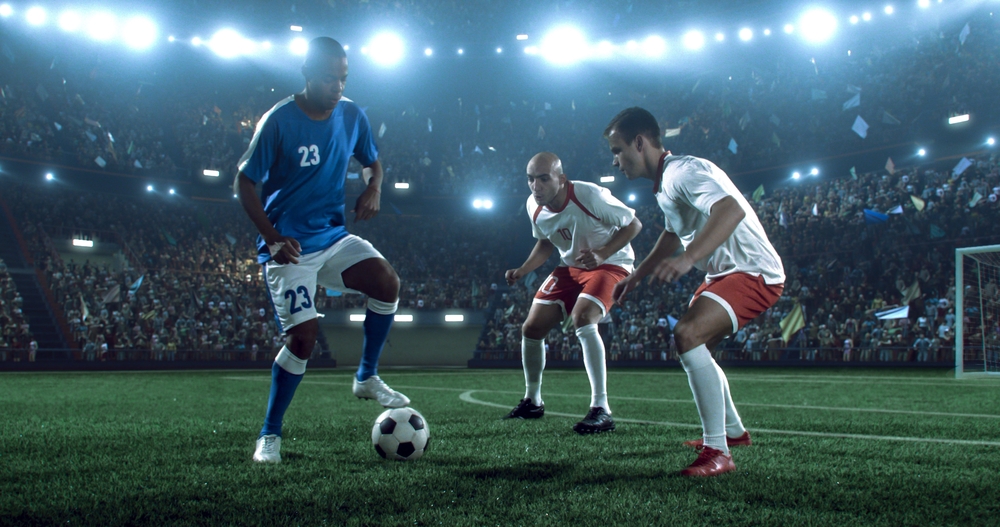 Coastal Orthopedics and Rob Williams, MD of Corpus Christi are excited to be the official sports medicine provider for the Corpus Christi Sharks. Corpus Christi is home to more than 75 youth soccer teams as well as academy leagues and a Men's Sunday Soccer League.
This is a soccer-loving town, and we at Coastal Orthopedics are proud to be part of that experience for many families, and now with an official relationship with the Corpus Christi FC.
Since 2017, the Corpus Christi FC Sharks have delighted fans with their play on the pitch. We are here to help players stay healthy, recover from injuries, and prevent injuries from occurring in the first place. Dr. Williams is a huge fan of sports in general, and soccer in particular. In fact, you will often find him on the sidelines for most home games.
Here's Dr. Williams Kicking off the 2019 Session!
Why is this News so Exciting for Coastal Orthopedics?
Working as the official sports medicine provider for The Sharks allows Dr. Williams and all the staff at Coastal Orthopedics, the opportunity to give back to the community in a way that touches the lives of every fan. We are able to do this in the following ways and more:
By providing direct care when injuries occur to our elite athletes.

By delivering ongoing support to the team and coaching staff of the Corpus Christi FC.

By offering reassurance to athletes who are facing unknown injuries and uncertain futures as a result of these injuries.
Ultimately, we believe we serve the community by serving the athletes the community loves and supports. Our practice offers many specialties that promote healthy, active lifestyles for families of all shapes and sizes throughout the Corpus Christi community, including those in professional sports.
About the Corpus Christi Sharks
While Corpus Christi boasts a rich soccer tradition, it wasn't until October 2017 that we were able to secure our very own Expansion Franchise team within the Coastal Bend Region. The first season was the 2018 season where the Sharks played home games at the Jack A. Dugan Family Soccer and Track Stadium.
As the team prepares for the 2019 season, Coastal Orthopedics will be there with them to promote safety, develop skills, and to assess and treat injuries as they occur.
Why Coastal Orthopedics?
When it comes to sports medicine and the Corpus Christi Sharks, Coastal Orthopedics understands the unique needs sports professionals experience when it comes to healthy motion and movement, recovery from injuries, and working to ensure the most favorable possible outcomes.
Our goal, first and foremost, is to offer treatment that is respectful of the injury and the player and effective to ensure shorter recovery periods so our patients can get back to the games they love most. In this case, the game would be soccer, and we are just as excited to get our players back on the soccer field in a way that is safe for them and allows them to reduce their risks of further injuries.
Coastal Orthopedics believes in listening to patients who know your bodies well and working with you to come up with an effective treatment plan that gets you back in the action as quickly as possible – and often as good as new. Which is why orthopedic medicine and the Corpus Christi Sharks are essential partners in creating healthy athletes that stay in the game for many seasons to come.
Do Ordinary People Need Sports Medicine Physicians?
The need for orthopedic physicians isn't limited to only professional sports players. People of all ages who work in a variety of fields, and even those who do not play sports of any kind may find yourself in need of orthopedic medical care. Coastal Orthopedics offers a variety of treatment options and procedures, including:
Platelet-Rich Plasma (PRP) injections

Total hip replacement (minimally invasive)

Cervical and lumbar disc surgery

Wrist surgery

Computer-assisted hip and knee surgeries

Meniscus and cartilage repair of the knee
Not only can we help minor league athletes, like those who play for The Sharks, but we can also help the general public and residents in the community with all the following and more:
Education and advice on preventing injuries.

Information about nutrition and supplements to help you up your game.

Assistance working out sports-related kinks as well as those that occur while simply rolling out of bed in the morning.

Strength training and conditioning.

Help student athletes recover from injuries and return to training.

Provide school athletic physicals.

Assist patients with disabilities in gaining, maintaining, and improving their independence.

Examining injuries for signs of concussions. This expertise is especially helpful in our role as orthopedic and sports medicine provider for the Corpus Christi FC.
Our goal is always to maximize your range of motion while preventing further injuries. We treat patients of all ages and all levels of athletic prowess. We can even help sofa warriors find relief from aches and pains while providing treatment for more serious conditions to all our patients as needed.
How Can Coastal Orthopedics Serve Your Family?
From food and nutrition advice to treatments and reconditioning for specific injuries, Coastal Orthopedics seeks to be your go to resource for all the sports medicine needs your family has. While Dr. Williams will be spending a fair amount of time on the sidelines of the Corpus Christi Sharks home games, he also plans to maintain a busy practice for the citizens of Corpus Christi who need medical care, orthopedic surgeries, and guidance about exercises that improve range of motion, ease movement, and protect spinal health as well.
Our staff is highly trained to help you get more from your sports training or simply achieve personal goals for health, fitness, and/or movement. This includes helping you understand the importance of key factors in your own personal health such as
Getting a proper amount of sleep at night.

Eating the right foods at the right times.

Exercising to build strength, stamina, and endurance.

Treating injuries you may have so you can prevent further injuries from occurring.
We understand the importance of all these things on your efforts to build a healthier you and will provide you with all the help you'll allow us to provide along the way.
While we consistently seek to avoid surgeries, preferring non-surgical methods for treating injuries when possible, Dr. Williams is a Board Certified Orthopedic Surgeon who is highly qualified to perform complex surgical procedures that relieve pain, improve range of motion, and make it possible for ordinary people and professional athletes to return to their passions upon healing.
In addition to serving as the official orthopedic and sports medicine provider for the Corpus Christi FC, Dr. Williams is also team physician for the Corpus Christi Force Volleyball Club.
Your family has a variety of medical needs. Sports medicine clinics, like Coastal Orthopedics, provide a wide range of medical services that meet many of those needs. We do so much more than perform surgeries and repair injuries. We work with patients to help them improve their golf swings, address recurring injuries, strains, and pains, and to prevent new injuries from occurring due to range of motion, poor posture, and any number of other preventable conditions.
Contact Coastal Orthopedics for Your Sports Medicine Needs
Contact us today to learn more about the vital services we offer the Corpus Christi community and how we can introduce you to a new level of pain relief by treating the injuries that are slowing your game down as well. Call us at 361-867-3239 or complete our online form.